Atla Water System
Regular price
Sale price
$ 631 USD
Unit price
per
Sale
Sold out
Atla installs under the sink and connects to the cold side of your existing kitchen faucet. For a more premium experience, you can choose 'connect to dedicated faucet' below or choose from a variety of dedicated faucets supplied by Atla.
Share
Description

Atla is the only premium under-sink filter with technology that imbues water with a lighter and more vibrant mouthfeel. Atla fans rave about the taste but love the fact that Atla also preserves the beneficial minerals that other filters strip away. Atla powers the cold side of the kitchen faucet or a dedicated faucet and is simple to install, thanks to the Atla app.

Upgrade to Atla Water for just $0.31 per day.
Details & Specifications

Atla Systems are constructed with NSF Certified Components to ensure safety and performance.

SPECIFICATIONS

Filter Capacity - 1000 Gallons/1 Year
Flow Rate - 1 Gallon Per Minute Continuous
Purification Module - 14 in High x 15 in Wide x 5 in Deep (35.6 cm High x 38.1 cm Wide x 12.7 cm Deep)
Revitalizer Module - 16 in High x 7 in Diameter (40.6 cm High x 17.8 cm Diameter)

PURIFICATION MEDIAS

FluorGon™ (aluminum-free fluoride reduction) - Filters Fluoride, Chromium, Arsenic, Aluminum, et al

KDF® 55 - Filters Lead, Iron, Manganese, Mercury, et al

5-micron Catalytic Coconut Carbon Block - Filters Chlorine, Chloramines, VOC's, Radionuclides, et al. Blocks particles >5 microns

0.5-micron Activated Coconut Carbon Block‍ - Filters particles & organisms >0.5 microns. Removes taste & odor

Atla System purification performance is 3rd Party Certified by Pace Analytical. Click HERE to view.
90-Day Trial Period

Buy now and start your 90-day in-home trial.

Our trial period is long so your body can feel what it's like to drink Atla Water every day. Atla drinkers report numerous health benefits and proclaim Atla to be the lightest and most refreshing water ever.

Atla Water isn't for you? No problem. Reply to your order confirmation email and we'll issue a number to get your refund processed as soon as your system is received. Just get it back to us within 90-days of the purchase date.
Installation

Only 'handy-person' skills needed
30 minutes install time
Our interactive app guides you step by step

Moving? Easy removal and reinstallation

If you also want to connect to your refrigerator or ice maker, be sure to add the Ice Maker/Fridge Connection Kit to your order.

Looking for installation help?

Find a well-rated plumber or handyman on Yelp, and recommend our app for animated installation instructions.
About the Faucet Options ¹

Connect to Kitchen Faucet
This option converts the cold side of your existing kitchen faucet to Atla Water. You can also use this option if you already have a dedicated drinking water faucet installed.

Connect to Dedicated Faucet
This option creates an additional supply line to support adding a dedicated faucet for drinking water where a dedicated drinking water faucet is not already installed.

Dedicated Faucet Included
This option is the same as the 'Connect to Dedicated Faucet' option above but includes the dedicated faucet of your choice.
What's in the box? ²

All Regions
Atla Water System
Filter Set FS300
Faucet (optional)

USA & Canada
3/8" OD Installation Kit

International
3/8" OD & 1/2" NPT Installation Kit
Free Shipping* & Warranty

Atla Systems usually ship within two business days. Shipping is free in the USA and Canada. The shipping charge to other countries is calculated at checkout. Shipping Policy

Crafted and warrantied by Atla of California, USA.

The Atla Water System is warrantied against material defects and errors in workmanship for a period of two (2) years. Faucets have a one (1) year warranty. The warranty does not cover damage to the system or property damage. All plumbing systems should be inspected periodically to ensure an absence of leaks that may result in damage to surrounding areas.
View full details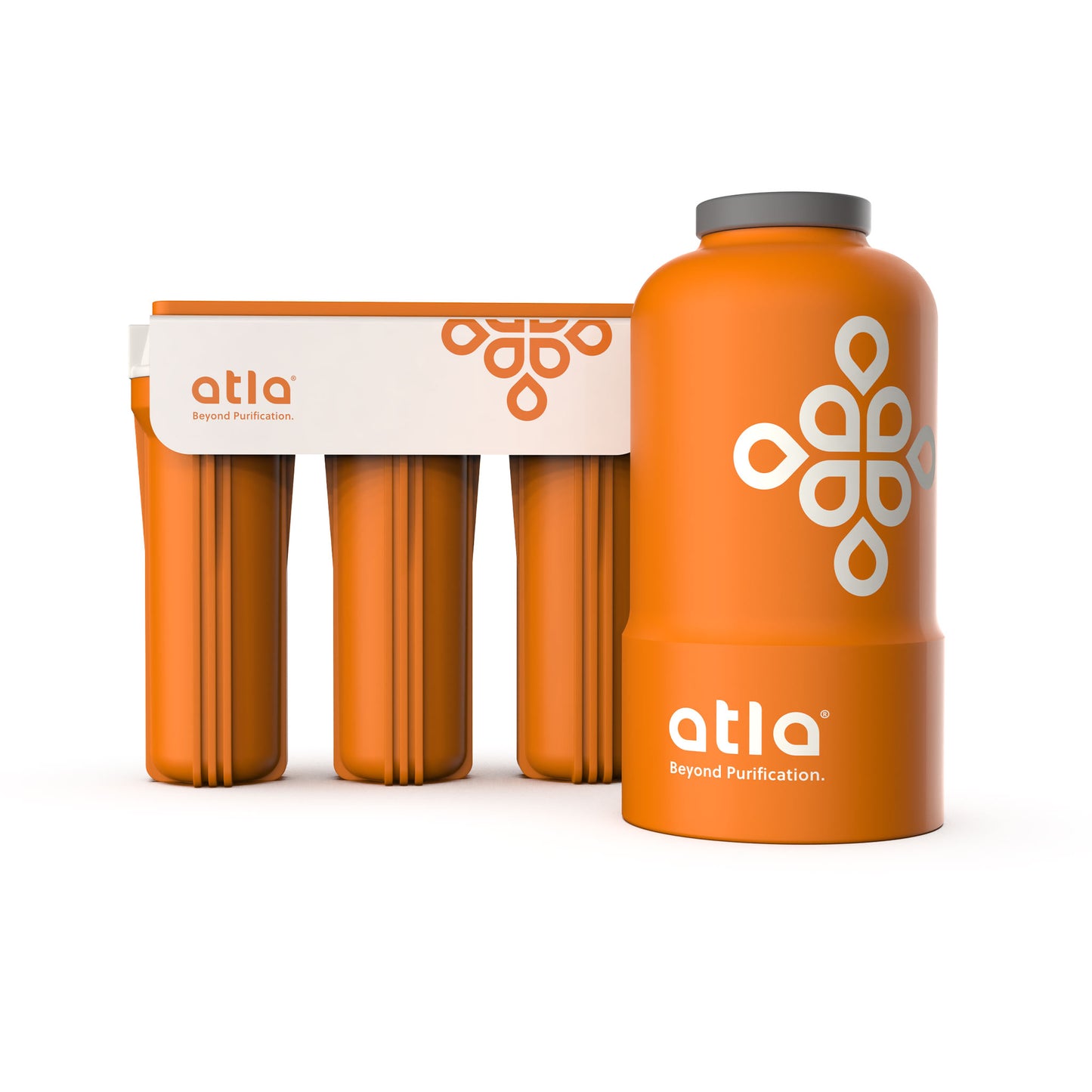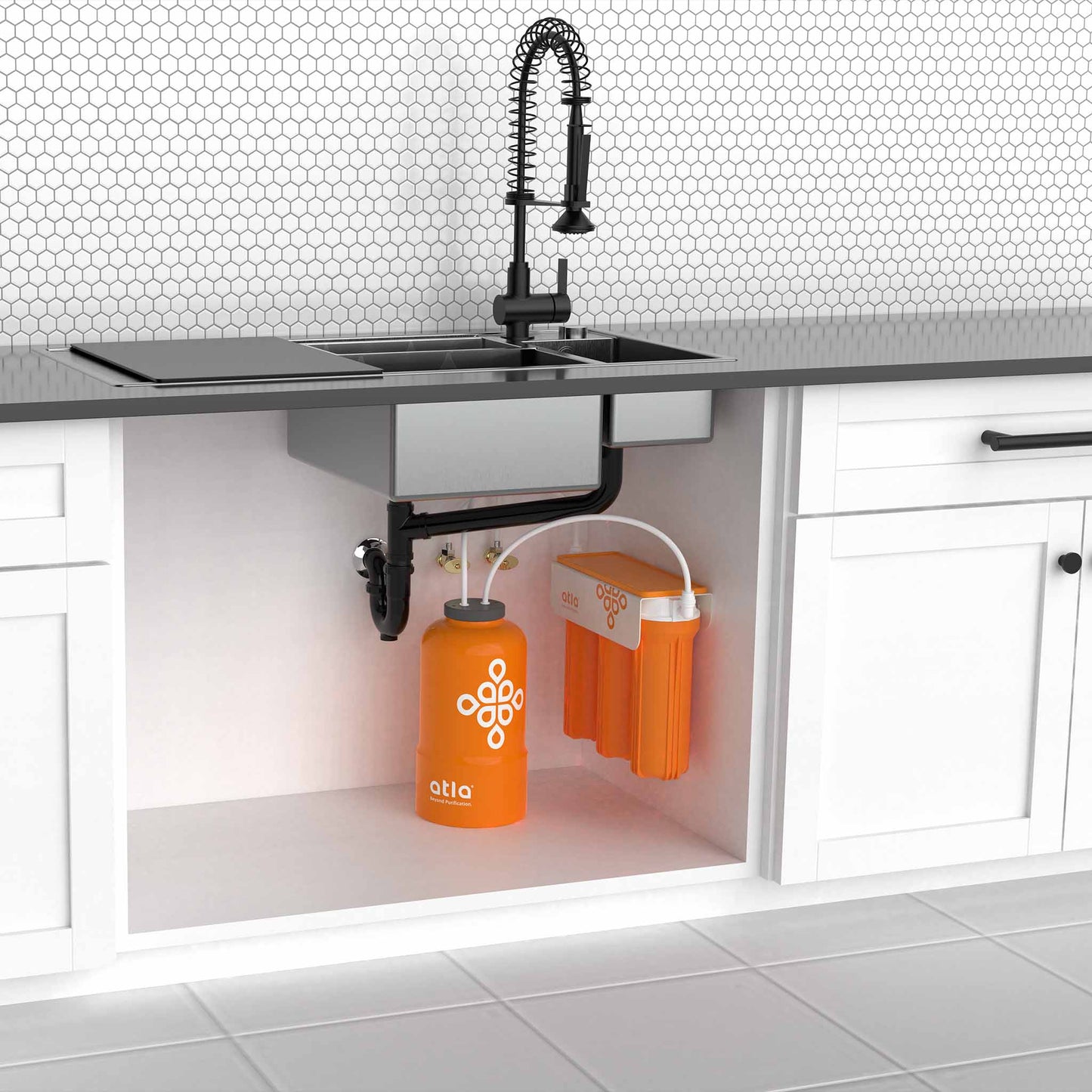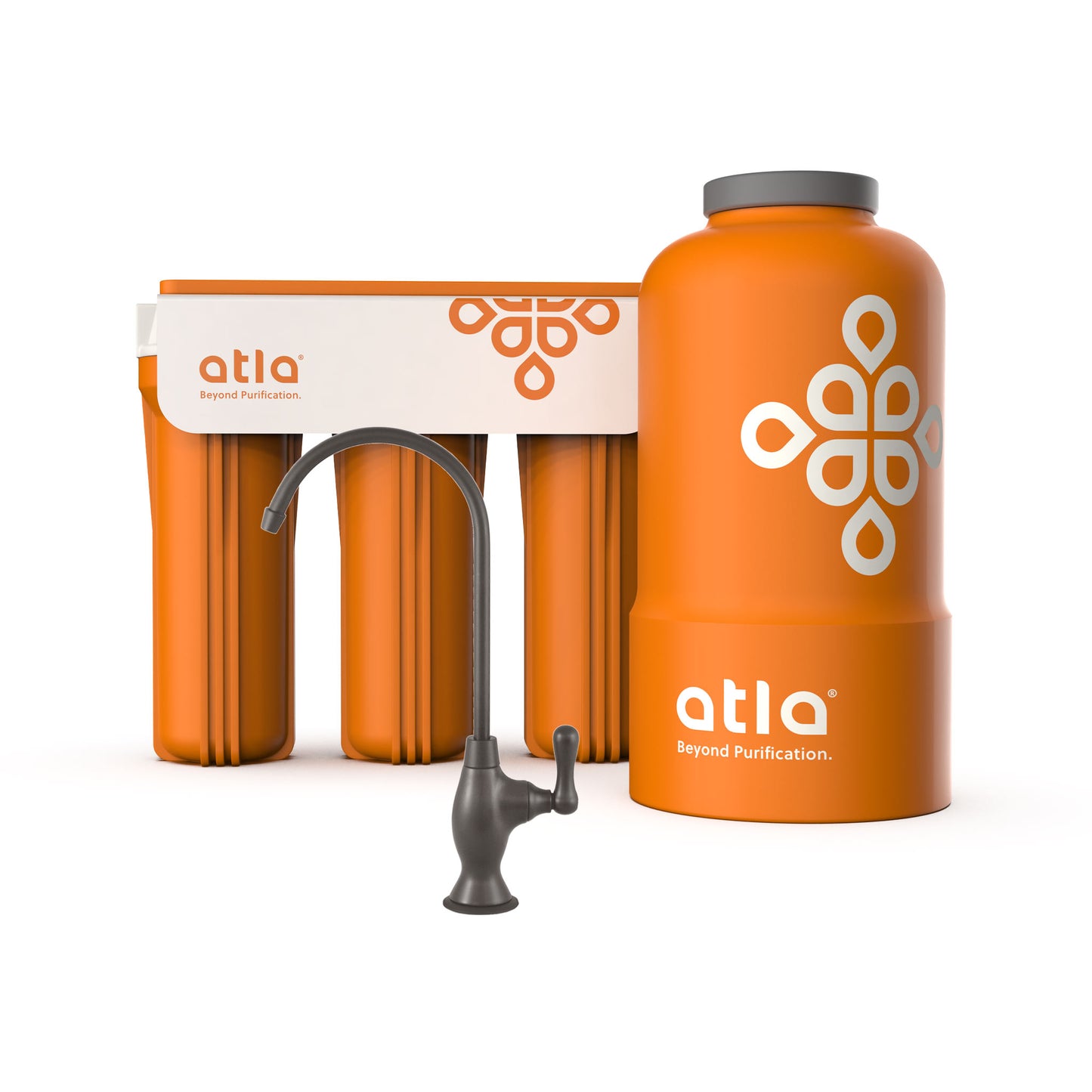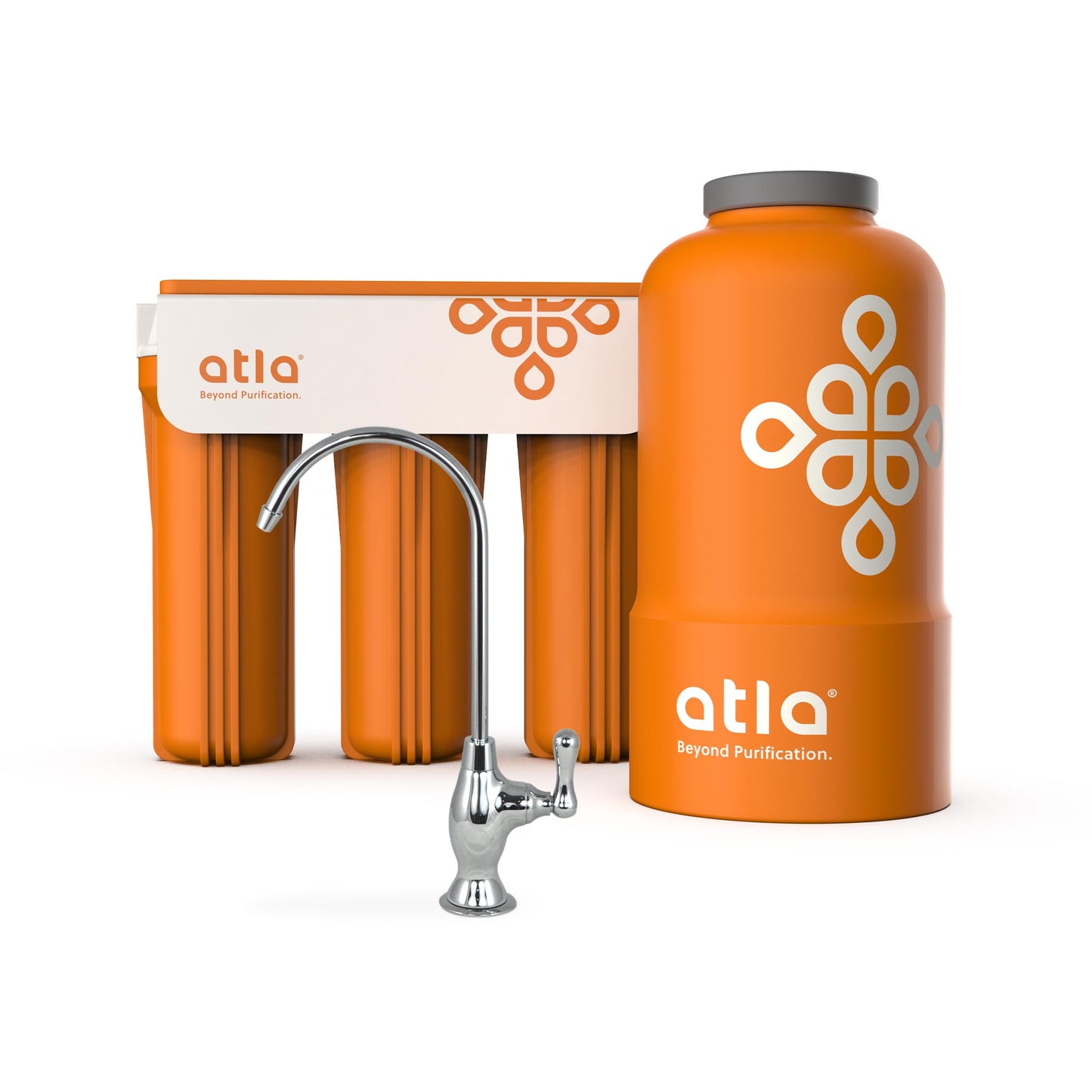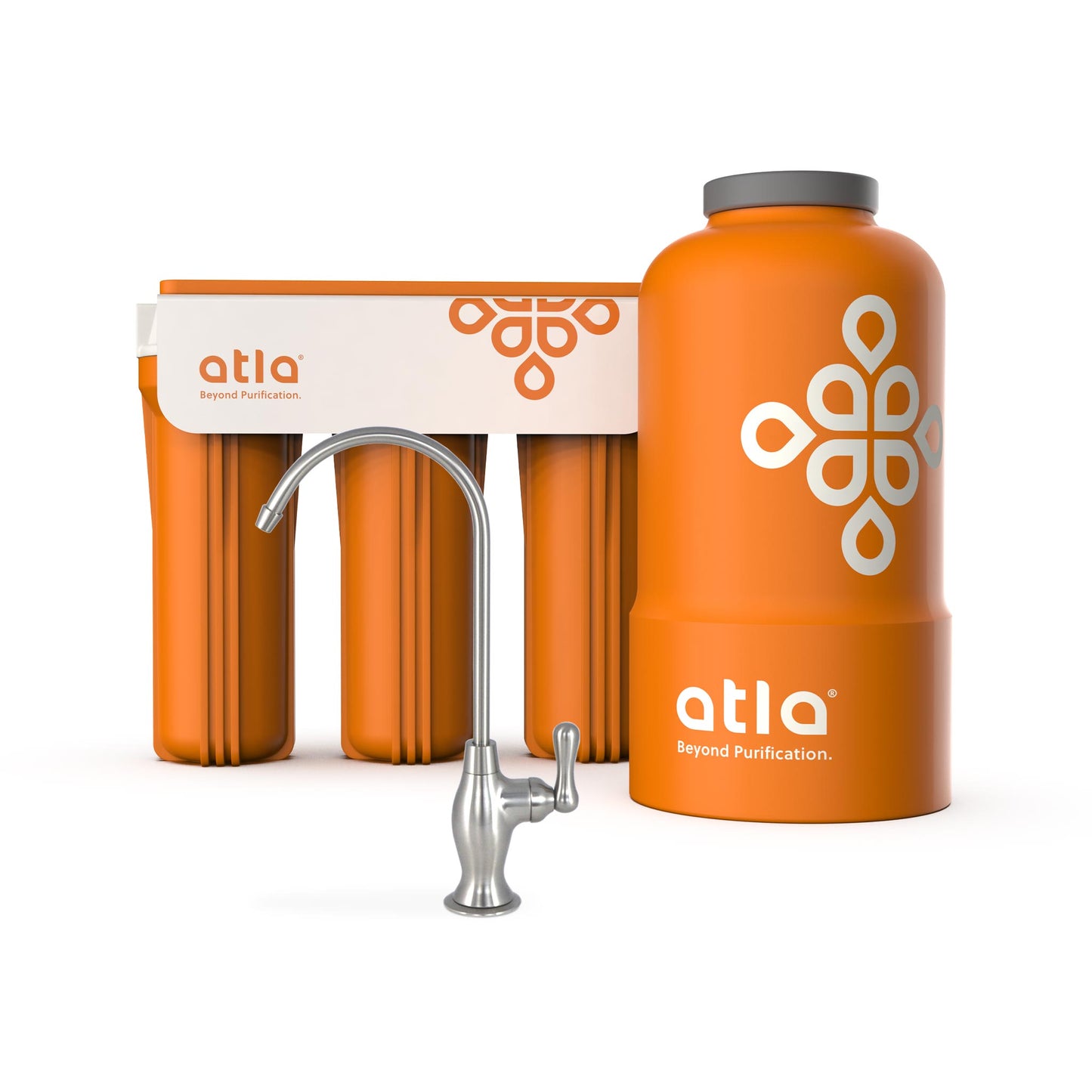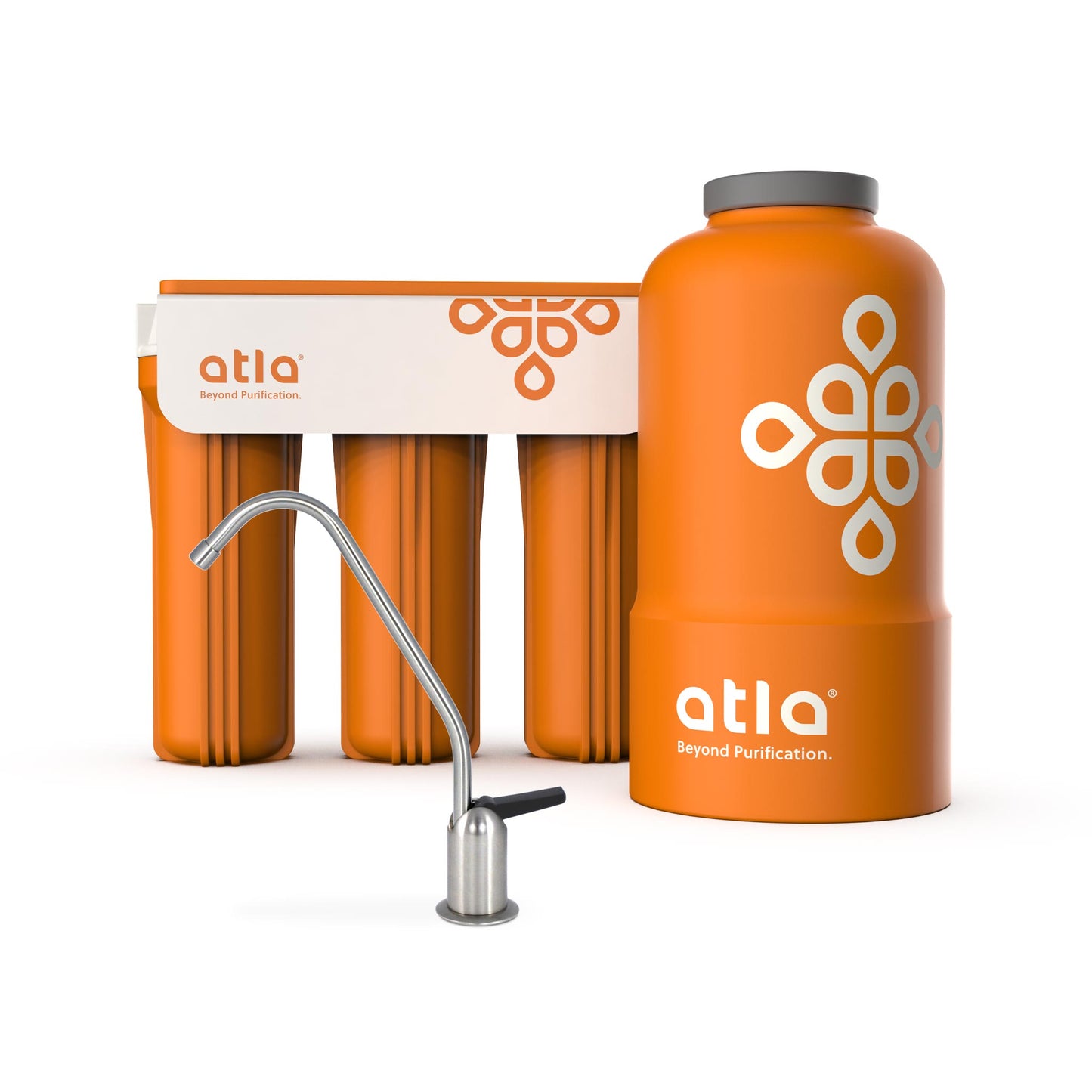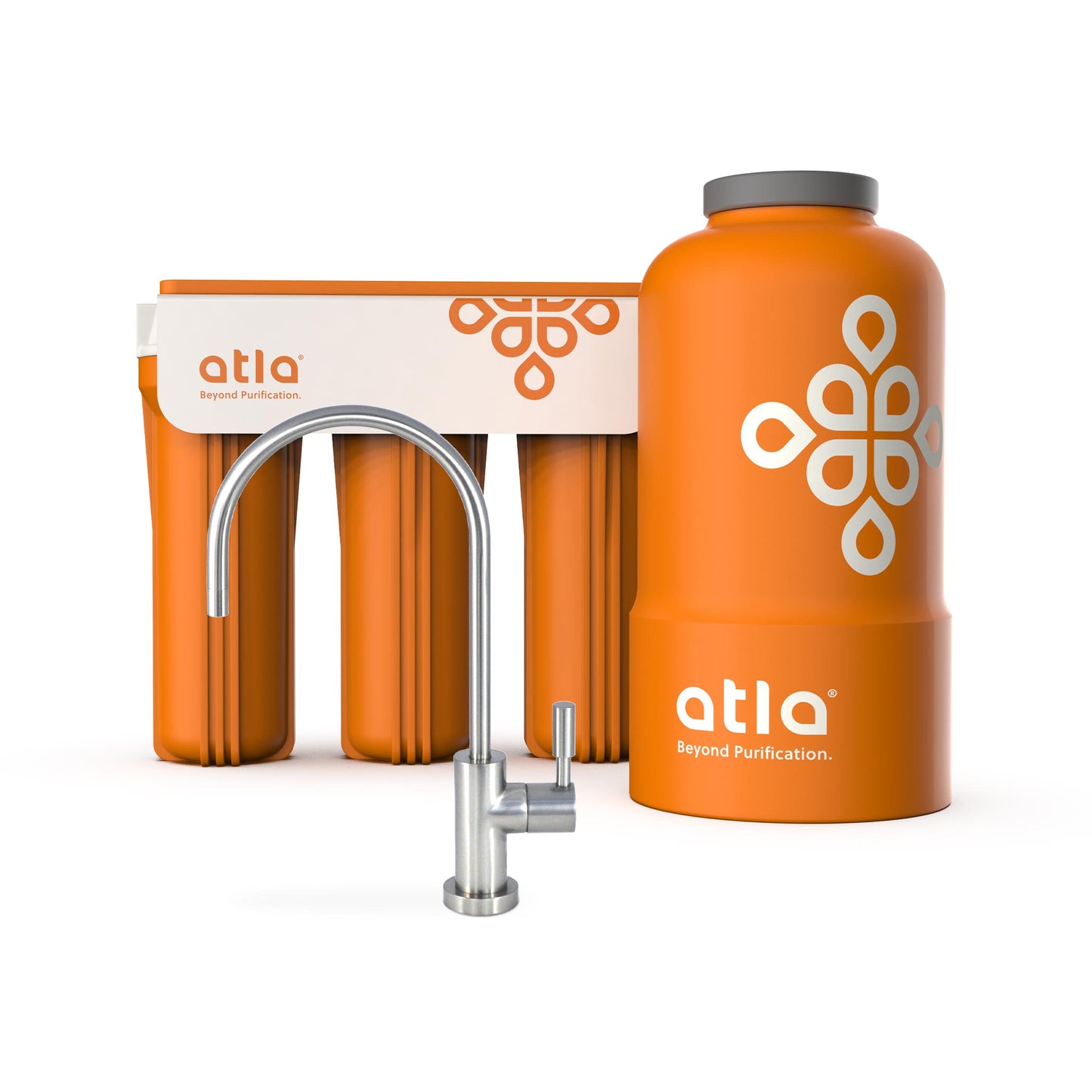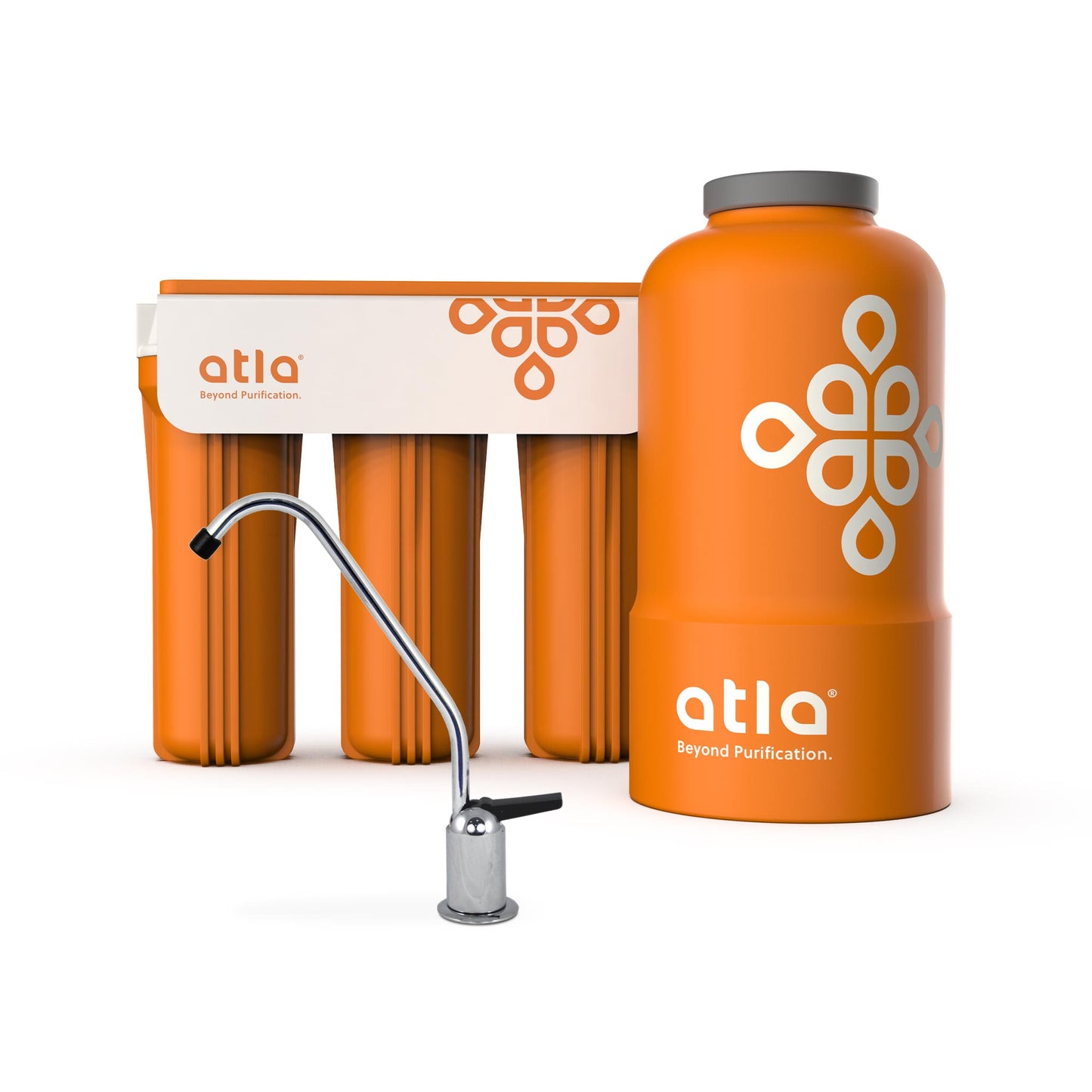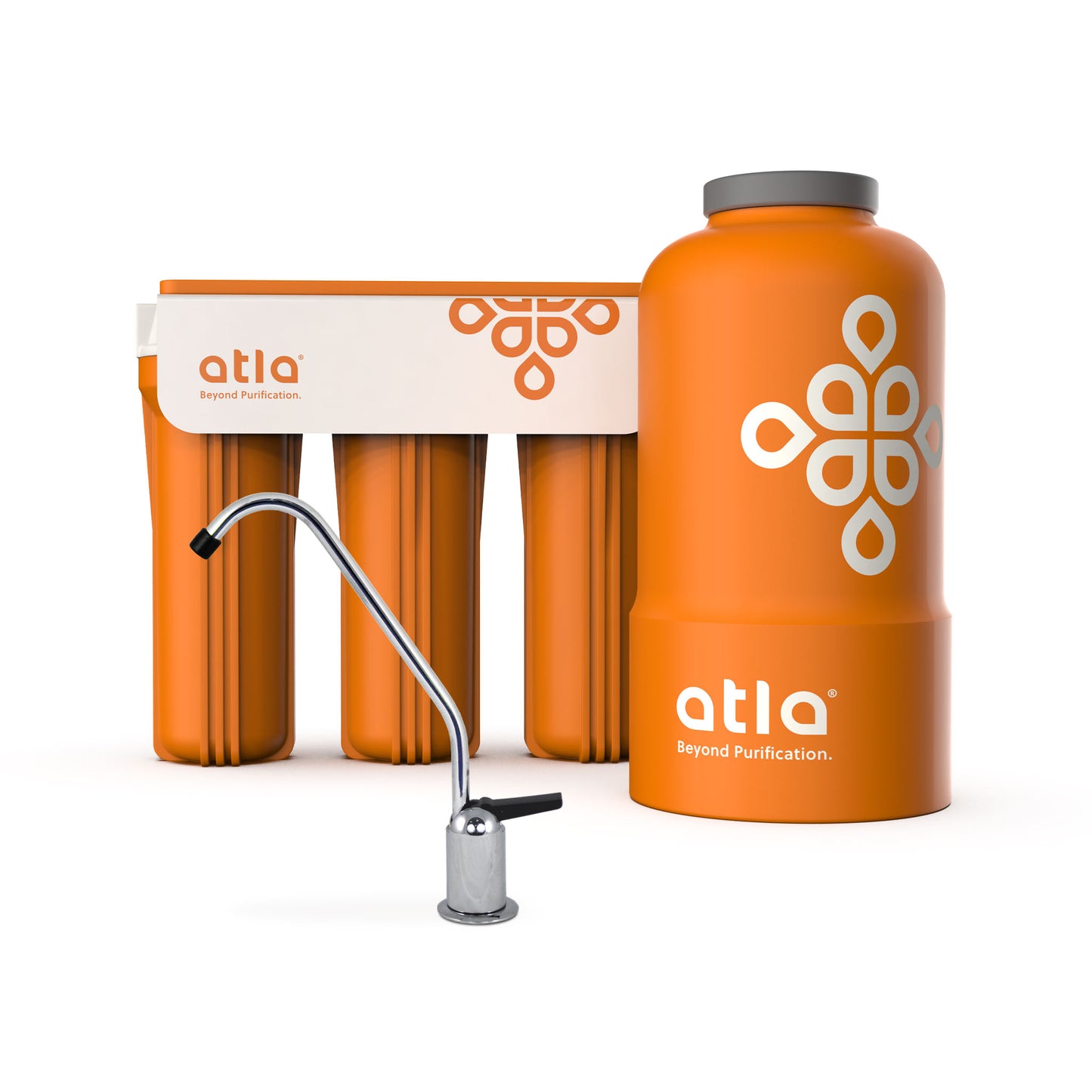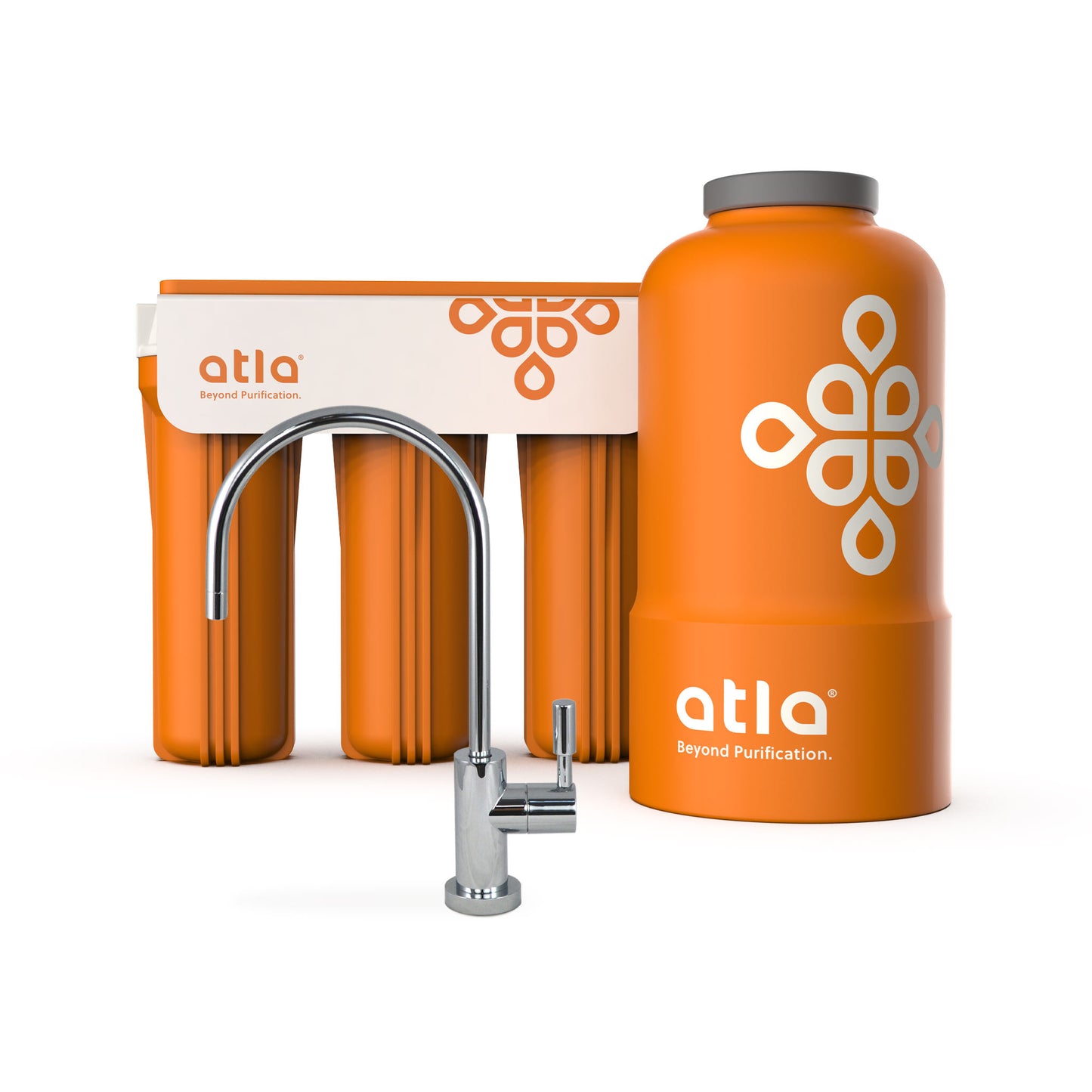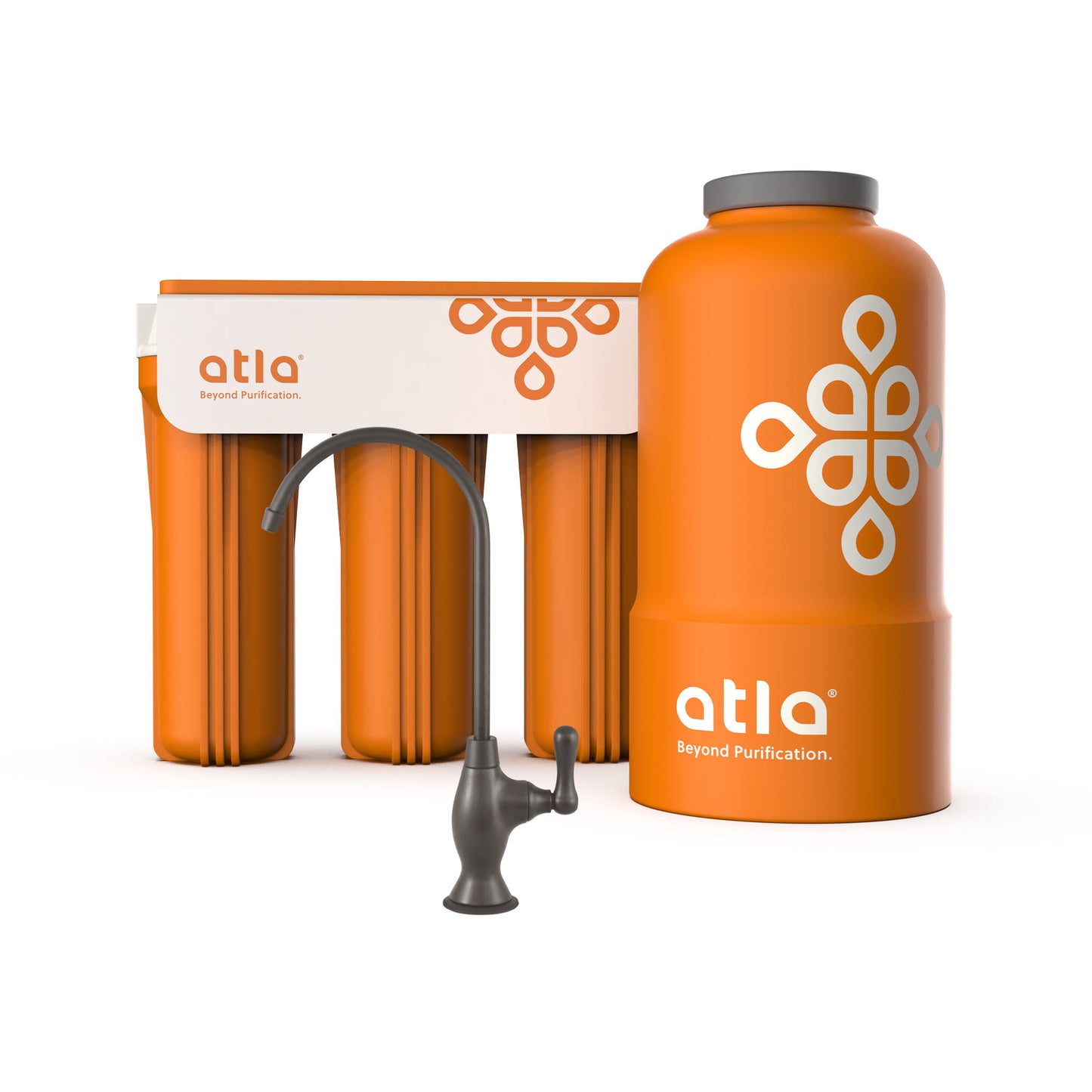 A divine force of nature.
Our premium in-home system recreates the spiraling dynamics of a mountain spring, producing soft, light-tasting, and easily drinkable water directly from your kitchen's faucet. Atla installs under the sink in 30 minutes or less for an endless supply of supernatural water you've got to taste to believe.
"For those humans with superior taste buds who want to bring the tasty, fresh mountain spring water flavor into their home..."

"...seamless new way to get purified water that tastes like it came directly from a free-flowing mountain spring."
Atla Water Powers "The Well" Hydration Stations at Westin Hotels & Resorts
A state of flow.
Our interactive 3D app walks you through installation step by step in just 30 minutes. A plumber or handyman can also do the job.
Installing Atla means less work and more free time in the long run. No more lugging bottled water, filling countertop filters or pitchers, or waiting for low-flow filters to fill your reusable water bottles, pots for pasta, etc.
Enter the vortex.
Water from mountain springs cascades over rocks and in eddies, forming vortices — a process that improves taste and vitality. Our Revitalizer™ technology recreates this natural phenomenon sustainably and in the convenience of your own home.
Increases Dissolved Oxygen (DO)

Improves Oxidation Reduction Potential (ORP)

Improves hydrating ability

Improves taste by producing a lighter-tasting, softer water
Always alkaline.
The finest spring water is high in magnesium, the miracle mineral. Our ActivMag™ technology integrates non-dissolving pre-oxidized magnesium to create a self-regulating pH system. The more acidic your water is, the more elemental magnesium is infused, elevating alkalinity naturally to manifest a beneficial pH.
Increases alkalinity (pH)

Improves Oxidation Reduction Potential (ORP)

Adds the miracle mineral, magnesium, in its elemental form

NSF/ANSI Standard 60 Certified for purity and safety
Purity embodied.
Reverse Osmosis systems remove impurities. They also strip out beneficial minerals while wasting more water than they filter. Our Activ8™ technology relies on several purification methods in relation to the rate and direction of flow to ensure your water is free of harmful toxins and full of vital minerals, all without wasting a drop of water.
Purification performance is 3rd Party Lab Certified

Removes chlorine, chloramines, lead, VOCs, and much more

Environment-friendly purification medias

Preserves beneficial minerals and trace elements
Learn more about Atla technology.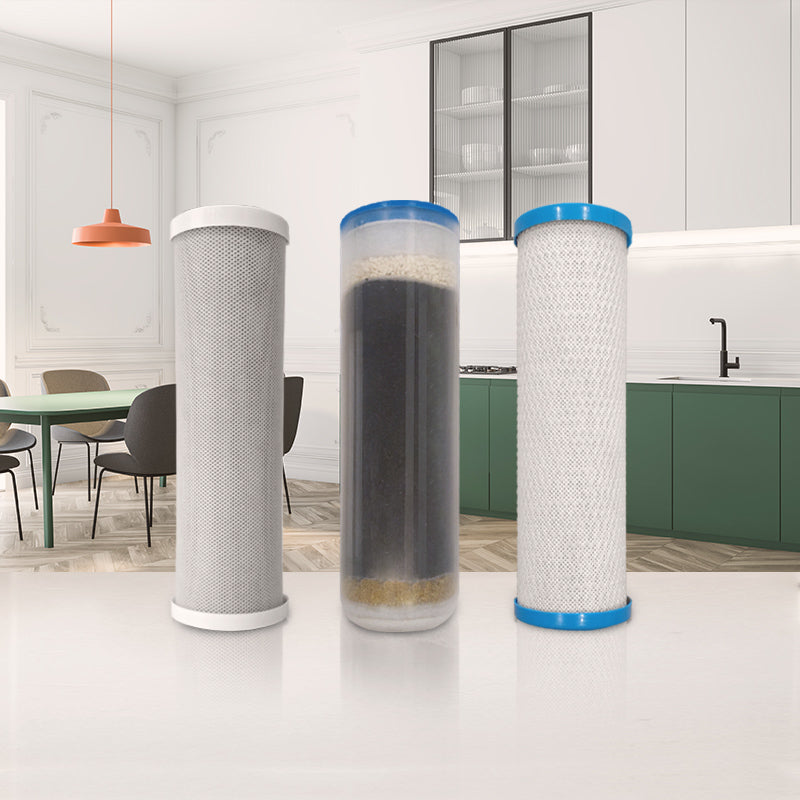 Recharge your system easily, just once a year.
Replacement filters are $115 annually, just $0.31 per day, and shipping is free (USA & Canada). If you can change a light bulb, you can change your filters.
What are people saying about Atla Water System?
Begin your 90-day in-home trial today.